Welcome to the best weekend of the year. The QuickStick boys have joined the masses making the pilgrimage to Foxborough to celebrate the game we all love and take in some awesome games. The D-I semifinals are set. Let's dive right in.
Yale vs. Albany, Noon Saturday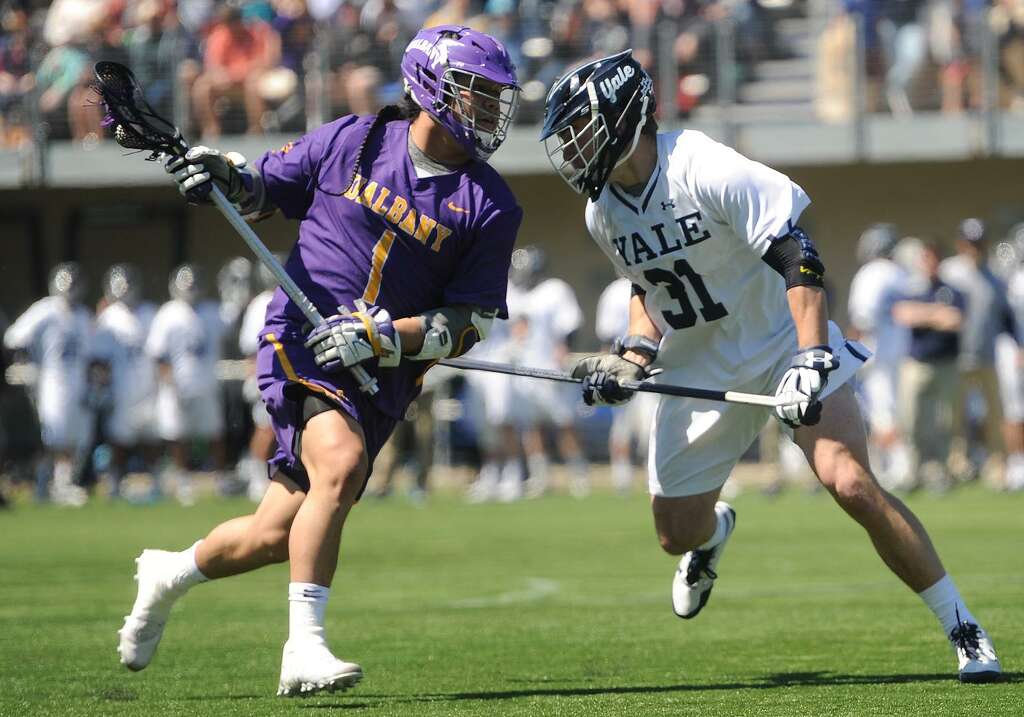 We kick things off with a monster rematch. Yale handed Albany its second and most recent loss in late April in a lopsided 14-6 contest. Connor Fields aggravated his knee in this game and left early. Tehoka went pointless. Yale won possessions off their ride and a strong effort at the faceoff X by Conor Mackie, who got the edge over TD Ierlan.
Yale put together the blueprint for beating Albany: limit their possessions and neutralize their superstars. These days, however, it's pick your poison with Albany's O. The supporting cast has been stellar in May, especially last week when Kyle McClancy, Sean Eccles and Jakob Patterson all had hat tricks. Yale will need all they can get out of their monstrous defense.
If you enjoyed that Ierlan-Baptiste faceoff matchup last week, we've got another great one on tap. Yale's Conor Mackie, the Ivy League First-teamer, has been the third-best specialist this year. In their first tilt, Mackie and Ierlan locked in a couple of long battles for the clamp, which can be super exciting. One of my personal favorite MDW lacrosse memories was in 2010, when Notre Dame and Duke battled over a minute for the clamp and the entire stadium rose to their feet to cheer on the effort. Look out for another play like this to ignite the Gillette crowd, which should feature thousands of travelling Yale and Albany fans.
This has potential to be the best lacrosse game of the year. I guarantee it'll be close. While most of the lacrosse world is pulling for the Danes, I give Yale the edge based on senior leadership.
Maryland-Duke, 2:30 Sunday
Albany's free-flowing style isn't the only thing that's good for the game this weekend. These teams each feature an awesome freshman from non-hotbed areas, in Maryland's Bubba Fairman and Duke's Nakeie Montgomery. Bubba has been one of the Terps' go-to guys all year. Nakeie stole the show last week with back-to-back goals to seal the deal against Hopkins.
All eyes will be on the Justin Guterding-Bryce Young matchup. Guterding is shattering records left and right but Young has proven himself capable of taking anybody's candy. Additionally, Duke will look to exploit matchups at midfield. Between Nakeie, Peter Conley, Brad Smith and Kevin Quigley, Duke has some serious threats across the top to complement Guterding's star power. Maryland has had trouble with their slide package recently. They'll need to be on top of things to slow down Duke.
Maryland's best defense all year has been a slow offense. Duke will have to get the most out of their possessions because if they give it up, they ain't getting it back for a while. It'll be interesting to see how the refs play it with the shot clock.
The faceoff matchups are also made more interesting by some high school beef. Both teams have faceoff by committee but the top dogs, Duke's Joe Stein and Maryland's Justin Shockey, played against each other for IAC powers Bullis and Landon, respectively. Should be a good fight.
I see Maryland pulling out a close one here. These teams are remarkably similar, especially on offense, where they rely on one superstar and a deep supporting cast. But I like Maryland's ability to defend, thanks to Bryce Young, long offensive possessions and their ability to adjust mid-game.
To all making the trip to Foxorough, we wish you safe travels. And if you see us, feel free to say what's up. Stay tuned all weekend for updates all over social media and of course, right here on the blog.