When the college playing days are over, you can't be too picky about the lacrosse company you keep. Men's leagues are a beautiful smorgasbord of players of many different ages and personalities; guys who wouldn't likely hang out if it weren't for lacrosse. Here are a few of those guys.
The Duster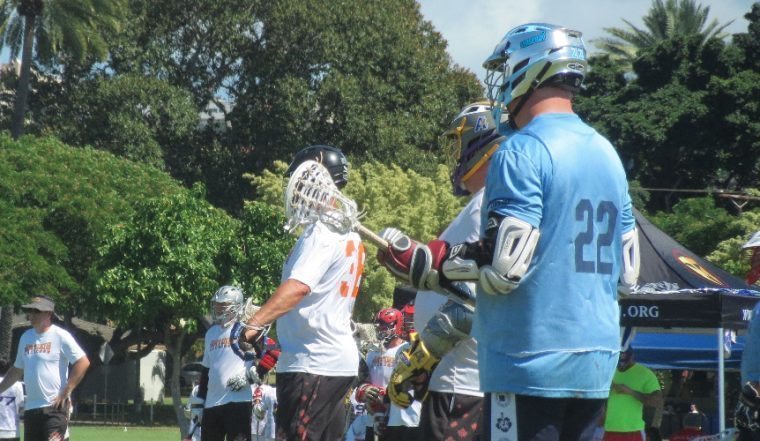 This oldster is often seen with black cleats and ankle socks, sporting a traditional-strung stick. He is extremely unathletic despite having monster calves. He likely spends the entire game talking about how gassed he is and how hard it is to keep playing. Should he be playing masters'? Probably. Is he a liability? Absolutely. But he loves the game and being with the boys and you can't hold that against him.
The Cool Dad
This guy is also a little old to be here but he's doing his darnedest to fit in. He'll show up to Sunday games loudly talking about how many Bud heavys he gassed last night and how happy he is to get away from his wife and kids for a couple hours. He might even chat up the exercise science grad student being paid $20 to be on hand as a trainer for your game. After the game, he will ask "where we going for beers?" as if this was a previously agreed-upon appointment. He might seem kind of lame but he'll definitely buy a couple rounds and boy, does he have stories.
The Degenerate
This guy shows up with twice the hangover that the Cool Dad is boasting. He's in his late twenties but has not slowed down since college.  He buys Pedialyte in bulk and always brings at least two bottles to each game. Unlike the Cool Dad, he does not want to party with you. He has his own friends. If you go away for a tournament, think hard before going out with this guy. You will likely end up at a strip club and/or getting arrested.
The Overly Positive Ringer
This dude is the best to have on your team and the most annoying to play against. He's a couple years removed from big-time college lacrosse and he might even play on an MLL practice squad. He's so upbeat and friendly that it feels like it can't be genuine. He calls everyone "boys." He takes every midfield shift and doesn't show any signs of tiring. He'll stick his fourth goal and immediately turn to the defense to congratulate them on good hustle or a nice check.
The Chill Ref
Refs 35 and up LOVE men's league. The Chill Ref will hang out by the midfield line and shoot the breeze with the oldest attackman back there, discussing which bars have closed since the late 90's when they were fresh out of college. He just wants everyone to have some good, safe fun, so he'll let the boys play.
The Box Guy
He hails from Canada or Upstate. He sports a box bucket and a plain t-shirt. No pinnie. He plays crease attack and is annoyingly active off-ball. This guy is as savvy as he is goofy-looking. He keeps to himself but if you get him talking, he's one of the coolest guys you'll meet.
The Rage Monster
Often seen abusing pre-workout, the Rage Monster makes everyone nervous from the second he steps on the field. His trash talk goes beyond humorous chirping and quickly turns mean-spirited. He spends most of his time serving penalties and berating the refs. His team wants him gone but Jim and Mark's wives don't let them come anymore so they need him for numbers.
The Wrong Position Guy
This dude played either pole or goalie for a small-time D3 school but he is strictly righty attack from here on out. He's in it purely for the glory now. He curiously has a rocket of a step-down but avoids dodging and going to his off hand at all costs. He has no sense of spacing but will still insist on playing man-up.
The Fat Goalie
I don't want to rag on men's league goalies too much because you have to be so FTB to spend your free time between the pipes behind a lazy defense, staring down shots from guys pouring a 40-hour week's worth of frustration into every shot. But 90% of men's league goalies are sturdy fellas. This usually isn't too much of a problem until they try to fly down the field like Blaze Riorden. Godspeed, Fat Goalie.